Rolls-Royce's first ever SUV arrives in the UK
October 31, 2018driversclub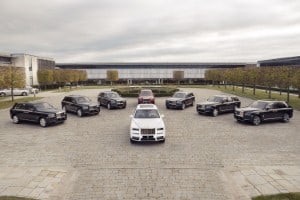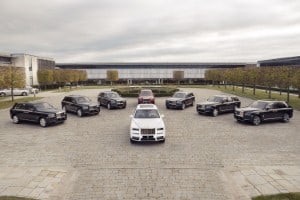 It's here: the first SUV from Rolls Royce – the Cullinan – has finally touched down in the UK.
A fleet of eight Cullinans gathered for a group shot at the home of Rolls-Royce in Goodwood, West Sussex, last week before heading to eight different UK showrooms for patrons of the marque to experience.
As you'd expect for a brand as prestigious and precise, each car was checked thoroughly and signed off by Julian Jenkins, regional director for Rolls-Royce Motor Cars, ahead of being driven by showroom representatives to their new homes in Edinburgh, Manchester, Birmingham, Bristol, Essex, London, Sunningdale and Leeds, which only opened in September.
Mr Jenkins said the response to the new Rolls-Royce Cullinan from the press and public had been "unequivocally positive".
"I am delighted that, from today, prospective clients will have the opportunity to experience this remarkable motor car via their local Rolls Royce showroom," he added.
The Cullinan is arguably the most eagerly anticipated car of 2018, and aims to make luxury off-roading a reality – a point that might hurt a specced-out Range Rover's feelings.
Labelled 'the world's first super-luxury SUV' – a claim the Bentley Bentayga might dispute – it uses a 6.75-litre twin-turbo V12 engine that sends 563bhp and 850Nm of torque to all four wheels to overcome any challenge. Given a flat straight, it can race up to 62mph in 5.2 seconds, with a top speed of 155mph.
Rolls-Royce says the Cullinan is also its most practical, versatile, family-oriented, fun-to-drive car yet.
Suitably, the Cullinan takes its name from the largest and most flawless diamond ever discovered, which now resides among in the British Crown Jewels.
Jess Wort, marketing manager at Petrol News, comments: "Most of us can only ever dream of driving a Rolls-Royce, but the Cullinan is something really special, even for a luxury car maker like this."
Get your FREE Drivers Club fuel-finder app – let's go.
Fast, easy refuelling is only the start. Log on and get your FREE Drivers Club fuel-finder app, plus exclusive offers. For you, your family & your friends.