Supercar line-up helps McLaren Automotive celebrate 10 years of production
June 13, 2019driversclub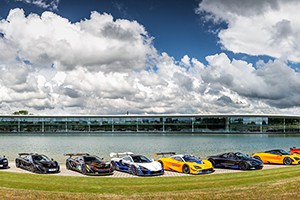 A collection of high-end McLarens valued in the region of £50 million have been brought together to mark a special occasion for the manufacturer.
McLaren Automotive has held a special open day for friends and family of staff as recognition for their hard work over the last decade since the marque was officially launched.
Showcasing some of the greats
The marque recently saw its 20,000th vehicle roll off its Woking production line and the line-up of 23 models are now on display at the company's headquarters.
Every one of the 23 has a special significance for the manufacturer, ranging from the world's first track-focused hybrid hypercar – the P1 GTR – to the new McLaren Speedtail.
Mike Flewitt, chief executive officer at McLaren Automotive, commented: "Seeing our famous line-up of cars assembled here for the first time today is a reminder to everyone of how far we've come as a company in such a short space of time and the ambition and innovation of our people who have helped create that success."
Overall, the company is gearing up to deliver even more outstanding models in the coming years as part of its £1.2 billion Track25 business plan.
The marque expects to push its annual production figures from 2,000 at present to more than 3,000 by 2025.
Jess Wort, marketing manager at Drivers Club News, comments: "McLaren has a history of developing some of the finest racing cars on the planet, so to bring almost two-dozen together at a single event is something truly special."
Get your FREE Drivers Club fuel-finder app – let's go.
Fast, easy refuelling is only the start. Log on and get your FREE Drivers Club fuel-finder app, plus exclusive offers. For you, your family & your friends.