This pop art-inspired one-off Ferrari roadster is very special
November 29, 2018driversclub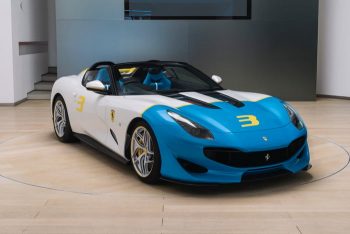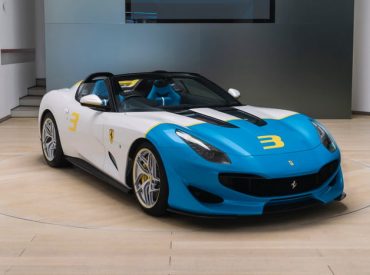 Imagine having a car so special that no-one else in the world has a car quite like it. Now imagine that car was a Ferrari.
Someone out there (we don't know who) has precisely that: a one-off Ferrari that is unlike almost every other car of its ilk.
Yep, we were very jealous when we read about the SP3JC – Ferrari's latest one-off project – which was officially handed over to its owner this week.
Designed by the Ferrari Styling Centre, the SP3JC was commissioned by an unnamed Ferrari collector who wanted a pure, uncompromising roadster using the chassis and running gear of the F12tdf.
Ferrari says the SP3JC is the maximum expression of open-air motoring, harking back to the marque's epic V12-engined spiders of the 1950s and '60s.
It's the result of more than two years of intense work, with close involvement from the client throughout the process, and the visually striking car more than makes a statement.
The SP3JC boasts a very muscular stance with dynamic sculpturing on the flanks designed to emphasise the front-engine layout, a distinctive air intake outline at the front and a dramatic rear fascia with horizontal slashes contributing to a wider stance.
Meanwhile, the client's passion for pop art is reflected in the strong graphics, and the unique combination of the Azzurro Met and Giallo Modena livery over the main Bianco Italia colour scheme underlines the car's sensual volumes.
Under the bonnet is a 769bhp V12 engine, which in the F12tdf reaches 62mph from rest in 2.9 seconds.
Inside, the seats are trimmed in blue leather (with a white insert), which extends to the lower dashboard. The colour is picked up in the contrasting stitching to the rest of the interior trim.
Jess Wort, marketing manager at Drivers Club News, comments: "This one-off Ferrari is a truly individual car in every sense of the word. Whoever the owner is, they've just bagged themselves a very tasty early Christmas gift to themselves."
Get your FREE Drivers Club fuel-finder app – let's go.
Fast, easy refuelling is only the start. Log on and get your FREE Drivers Club fuel-finder app, plus exclusive offers. For you, your family & your friends.