Savings on Star Wars dome tent and picnic rug
May 10, 2019
Take your family of Stormtroopers anywhere with this Star Wars tent and picnic rug.
Whether you're exploring exotic locales far, far away or simply spending a pleasant day at the local park the Star Wars Death Star Tent and Millennium Falcon Picnic Rug are ideal for camping, festivals, picnics and days at the beach.
Star Wars Death Star Dome Tent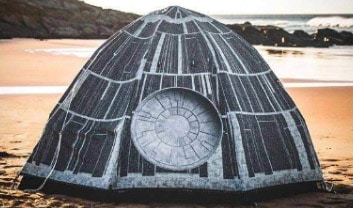 That's no moon…it's a mind-bending tent perfect for camping trips or as a beach base. Whether you're a Jedi, and want to infiltrate the foolish Lord Vader's battle station or a Stormtrooper who is ready to fight to the death, the Star Wars Death Star Tent is the epic abode for you!
Beautiful high-quality replica of the notorious Death Star. It comfortably sleeps three people (or Stormtroopers).
It is easy to rapid construct with knuckle-click system. Construct the poles, inner and groundsheet in under two minutes. Insect netting to keep out pesky space bugs. Outer made from high-quality Oxford Polyester with Inner and outer door for ventilation. There are pockets on the inside to store items such as maps and phones.
The dome tent comes in its own licensed Star Wars waterproof carry bag – so you can impress as soon as you arrive at your destination.
Star Wars Millennium Falcon Picnic Rug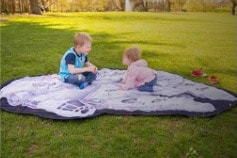 The fastest hunk of junk that will take you on picnic trips across the galaxy. This beautifully realistic picnic rug is perfect for family and friends hoping to explore the Galaxy together. You can enjoy al fresco dining in every far flung corner of the Empire, or even just in your back garden if you wish!
The rug is a HD printing of all the Falcon's intricate detailing. It will seat up to four pilots or two senior pilots. The soft surface is perfect for lounging all day. Its waterproof base makes it the coolest all terrain rug in the galaxy.
It's lightweight and easy to transport – The perfect travel companion for scruffy-looking nerf herders – and comes with its own licensed carry bag.
Drivers Club members can enjoy special discounts from now until 13 June 2019,
£24.99 for Millennium Falcon Rug, 38% off
£129.99 for Death Star Tent, 48% off
£149.99 for Death Star Tent & Millennium Falcon Rug Bundle, 48% off
Why not join and grab this deal – and many others?


Download Drivers Club now from your app store and start finding 1,000s of UK forecourts to help you find fuel fast, enjoy great monthly offers and keep up to speed on the latest motoring news.