Switch on to summer tech and save up to 40% off
July 22, 2019
Summer is here and the school holidays are fast approaching. We thought now is the right time to help sort out those long days of fun by introducing a catalogue of ideas from the UK's leading online electrical retailer Ebuyer.com
'Fans' of cooling systems this summer
British weather is one of those unpredictable phenomena. When you leave your house, you never know whether to pack the brolly or the sungiasses. And indoors too, you need to cover your options with temperature variations, without spending a fortune on heating or cooling equipment.
So, If you feel like you're in a greenhouse, then a mobile air conditioning unit can work wonders in your home.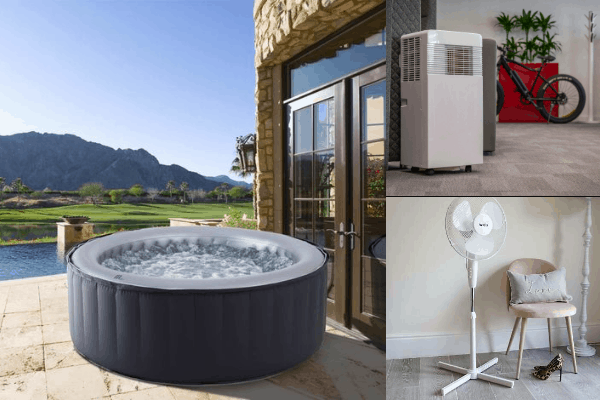 Hot deals on hot tubs
Hot summer days or cool balmy nights relax and kick back in your very own hot tub. No need for expensive plumbing or complicated installation. The inflatable hot tubs available from Ebuyer are easy to set up, luxurious and affordable.
Be the envy of your neighbours and indulge yourself with your very own outdoor spa.
Don't be fooled by the fantastic low prices. These inflatable hot tubs are robust and can accommodate up to four people in comfort. One button inflation and built-in controllers make these tubs so easy to use.
Sizzling summer BBQs
Are you a traditionalist? Love the smoke and sizzling fat from a charcoal barbeque? Or do you prefer the cleaner, faster grill of a gas BBQ? Charcoal versus gas is a fierce debate among many back garden grillers. But which is best?
With a charcoal barbie, you get the authentic smoky taste in your food. But gas has its good points too. Much easier to start (no messing around with coals and firelighters) and you can easily adjust the heat when needed. The decider for many gas fans is how easy the BBQ is to clean compared to a charcoal version.
Kick up a storm in the kitchen
Kit out your kitchen with the latest appliances from trusted brands like Breville, Bosch, Morphy Richards and Panasonic. At Ebuyer, they stock loads of handy, small kitchen appliances designed to make everyday living a breeze. They have gadgets created to chop, slice, blend and toast your favourite food in no time at all.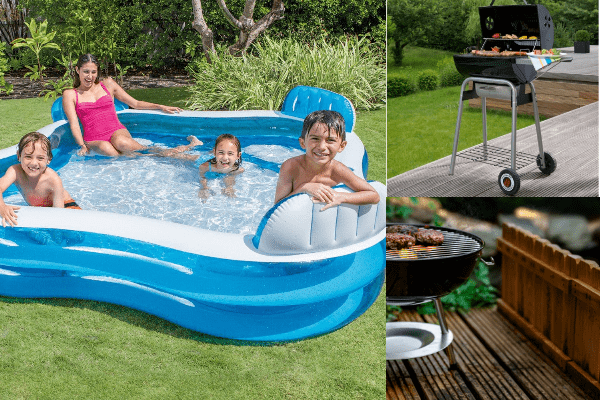 Toys to get you out of the house
From paddling pools that will fit the whole family, to water balloons that will get you into a lot of trouble with some members of your family. Or make some noise and hop on battery-operated rides. Or be super high tech with fully operational drones that you can carry in your pocket. All the toys guarantee genuine fun.
Shine on summer tech
Summer is all about heading outside and enjoying great weather and friends. Whether you are on a beach or in your garden, here is a collection of technology that can help you enjoy the moments and capture those memories.
Camcorders and cameras: Using a camcorder is a great way to preserve those special memories of friends, family holidays and events such as weddings and Christenings.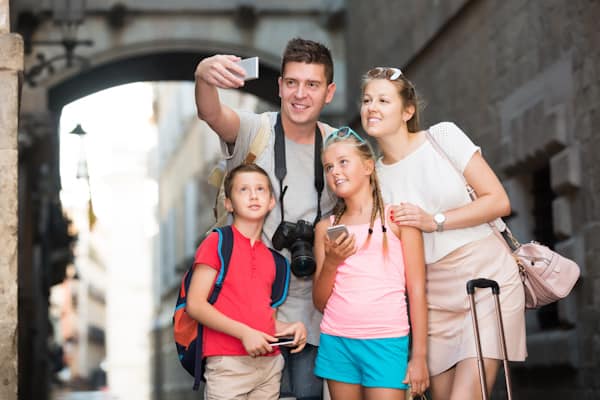 Headphones: When using headphones for listening to music or movies or for gaming, you want a pair that not only delivers excellent sound, but that is also comfortable to wear for extended periods. A good quality pair of headphones can make a massive difference to your enjoyment of music and other media.
Power Bank Portable Charger: A power bank is a portable charger, essentially a battery within a case, to recharge any mobile device. These convenient power packs can be taken anywhere and used to recharge your smartphone or tablet when you get that dreaded low battery notification.
Speakers: A pair of speakers can be an excellent investment. Of course, they will make your music so much better. They also come into their own by making movies and games an immersive experience, especially if you have a surround sound speaker system.
Drivers Club members save up to 40% off in the summer sale at ebuyer.com until 20 August 2019.
Why not join and grab this deal – and many others?


Download Drivers Club now from your app store and start finding 1,000s of UK forecourts to help you fuel fast, enjoy great monthly offers and keep up to speed on the latest motoring news.